Just Giving
Wed 27th Feb, 2008
Have just set up a web page to help deal with the sponsorship of the walk, check out justgiving.com/markolver
All is going well, did a lovely fifteen mile walk to Bath on Sunday (well, 7 mile walk to pub, big roast dinner, then dragged myself back)
Planning a big party at Jesters on Sunday 8th June, lots of great comics, bands and a cake sale, all in aid of St Peter's Hospice and Help The Hospices.
Provisional Route
Wed 23rd Jan, 2008
Several people have asked about the route of my walk, how long it will take, and if I think I will survive.
Yes, I reckon I will survive.
As for the other two questions, I have done a route, with 33 stops, where I hope I will do gigs all the way up.
Going to leave on 9th June, with hopefully a big party at Jesters in Bristol the night before.
This route is provisional for several obvious reasons, and the timetable is provisional because I have not added in rest days yet, or parts of the walk where I may want to take a little bit extra time and therefore an extra stop.
Anyway, here it is. The Route for Ramble On.
June 9th – Chepstow
June 10th – Monmouth
June 11th – Hereford
June 12th – Leominster
June 13th – Ludlow
June 14th – Church Stretton
June 15th – Shrewsbury
June 16th – Wrexham
June 17th – Chester
June 18th – Warrington
June 19th – Wigan
June 20th – Chorley
June 21st – Preston
June 22nd – Garstang
June 23rd – Lancaster
June 24th – Kendal
June 25th – Sedbergh
June 26th – Brough
June 27th – Bishop Auckland
June 28th – Durham
June 29th – Chester-le-Street
June 30th – Jarrow Newcastle
July 1st – Newbiggin-by-the-dea
July 2nd – Amble
July 3rd – Dunstan
July 4th – Beadnell
July 5th – Bamburgh
July 6th – Berwick-upon-Tweed
July 7th – Cockburnspath
July 8th – Dunbar
July 9th – North Berwick
July 10th – Prestonpans
July 11th - Edinburgh
Mark can actually walk (by Martha)
Sun 13th Jan, 2008
Hello all frequenters of Markolver.com. This is not Mark as you might expect, but Martha, his girlfriend. I noticed that months and months ago some people said on the guestbook that they'd like to see pictures of Mark walking - they probably fail to believe that such a thing could happen and so require evidence! He never did this (I apologise on his behalf) and although these images aren't necessarily the walks that you've heard about (he didn't take any pics on his walk to Weston) I do have some little snaps from previous walking experiences....so here we go, just to prove he can do it....
In Edinburgh in the summer myself, Mark and my little brother hiked up Arthur's Seat...
Olv got a little hot and sweaty...
But we made it to the top!
He was happier when we were coming back down again though...
He looks the part with his little rucksack (bless)...
Gets easily distracted...
Our shadows enjoy it too...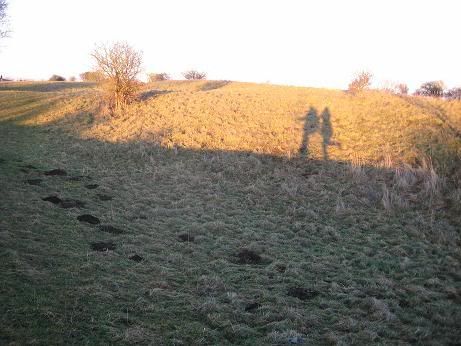 He can do it in the winter...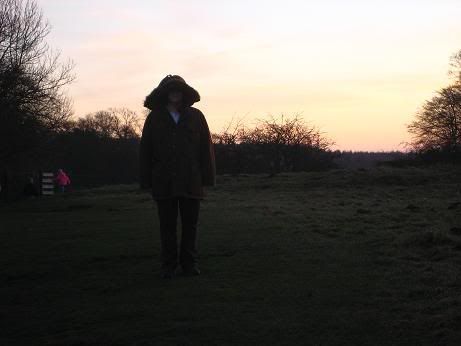 Or in the summer...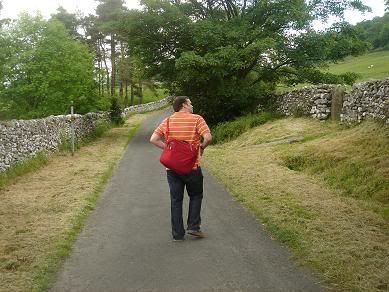 There are probably more, especially from our 15 mile jaunt in Ireland, but Mark has those safely guarded on his laptop so I will have to try and steal them....
More Walk News
Sun 13th Jan, 2008
Several things.
Firstly, and very exciting, i have linked in with a charity for the walk. They are called Help The Hosipices, and are a national charity supporting local hospices. I am going to be raising money for them, details will come soon, and also hopefully visit and perform at hospices and for hospice staff and visitors on the way up to Edinburgh. Daunting but cannot wait.
Also, going to be doing some stuff with Rusell Howard and Jon Richardson on their 6 Music show, and am attending a few walking festivals in February and March. Oh and grown a beard to complete my rambler look.
Am thinking about buying myself one of those fancy walking stick things, and maybe a flask.
The reading is also continuing, and todays quote is from Robert Louis Stevenson about the pleasures of walking alone:
"A walking tour should be gone on alone, because freedom is of the essence, because you should be able to stop and go on, and follow this way or that, as the freak takes you, and because you must have your own pace, and neither trot alongside a champion walker, nor mince in time with a girl"
I have very little intention of letting the freak take me, but am tempted to do at least part of the walk, mincing like a girl.
The Walk - Theory
Wed 9th Jan, 2008
It has come to my attention that my Walk entries have become rubbish and non-existant again.
I have not been doing alot of walking in the last month or so, the horrible weather puts me off, although my self and Martha went to Ireland last week and did a 15 mile walk which I will be writing about soon.
There have, however, been developments in the walk.
If you have not been following proceedings, skip back a few entries and you will get up to speed quite quickly, quicker than i have anyway.
The main development is that the show has another title, and hopefully this one will last until August. At the moment I am planning to call the show "Ramble On". Any opinions gratefully accepted and possibly ignored.
I like the title plus it gives me ready made intro music.
Also, i have been reading. About walking.
While I am waiting to pluck up the courage to start physical training again I have been doing research into the history of long distance walking, and in the next few weeks some of my favourites will be written up in here.
At the moment there are two.
The first is a book from 1961 about a race from John O Groats to Lands End, sponsored by Butlins and written by a bloke called A. Walker. The book is called The Big Walk and among the exciting depictions of the race is this section from his voyage through Wigan:
"As we walked through Wigan we realised that there is more to a town than a group of dull buildings. Ther eis warmth and friendliness here. Countless times we were asked by people on their doorsteps if we would like to come in for some refreshments - once by a coloured man"
The book that is giving me the most inspiration at the moment is Wanderlust by Rebecca Solnit, a collection of essays about the history of walking and the concept of the walk in literature. One quote specifically sums up what I hope to gain from the walk, and is forcing me out of the house as the weather slowly warms up.
The quote is from Jean-Jacques Rousseau
"Never did I think so much, exist so vividly, and experience so much, never have I been so much myself, as in the journeys I take alone and on foot. There is something about walking which stimulates and enlivens my thoughts. When I stay in one place I can hardly think at all, my body has to be on the move to set my mind going. The sight of the countryside, The succession of pleasant views, the open air, a sound appetite, and the good health I gain from walking, the easy atmosphere of an inn, the absence of everything that makes me feel my dependence, all these serve to free my spirit, to lend a greater boldness to my thinking, so that I can combine them, select them, and make them mine as I will, without fear or restraint"
Good that aint it?
I hoping to be the first person to make Rousseau funny.
Tune in tomorrow to find out what Robert Louis Stevenson thinks of girls walking.
Contact Mark
You can contact Mark by email or by phoning Email me please